Name changes can sometimes cause confusion but can also be quite illuminating.
I've been an admirer of Nanfan for a while but only recently discovered she's turned into Sycamoon, which fits her work even better - do check out her explanation of the new name on her blog here.
And after you do that, or beforehand if you fancy, have a read through of this interview with Nana and enjoy her wonderful words and pictures while you learn more about her craft.
When and how did you start making jewellery?
I started making pendants in 2010. To begin with they were really just a new way to sell my art. I made tiny drawings and put them in bezels and on domino pieces. But of course then I had to make chains and bails, hooks and clasps and from there the metal just took over – I became fascinated with wire wrapping and gorgeous copper. It took over completely.
I never had much luck selling my prints and paintings, but the jewellery started selling, compelling me to learn more and get better. I loved the world that just opened up in a new craft and then I discovered metal clay and was completely hooked.
Today most of my items are made from metal clay. That's tiny particles of metal – bronze, copper or silver – mixed with an organic binder, which makes metalworking feel like playing with play dough. You shape your pieces in wet clay – much smaller quantities than a pottery artist of course, this stuff is expensive! Once dry and refined the clay is fired in a kiln at very high temperatures and the binder burns away leaving pure metal.
Where do your design ideas come from and what is the process that sees them through to the finished product?
Inspiration for new designs come from all over the place. I take macro photos of nature and bring home pods, leaves and feathers. I doodle a lot trying to get a swirly Art Nouveau style that also reminds me of fantasy creatures and Elves. Other designs just come from finding a gorgeous bead and needing to frame it somehow – or learning a new technique like electroforming and just trying out what it can do. As a result I get a lot of disparate pieces and not really a coherent collection.
I used to agonize over how I could tighten my style – We're always told to have a strong visual identity and to get that coherent look. But which part should I get rid of? Wire wrapping or metal clay? Nature inspiration or Fantasy and legends? In the end I decided to just allow myself to create anything that I find beautiful and if the shop looks a little messy because of it, well that's a small price to pay for having fun.
How do you motivate yourself to keep on creating?
In the beginning I was very much driven by the ambition to be my own boss and having my own business. But that part wouldn't have survived if I hadn't found it so much fun to keep learning and experimenting. These days it's actually much more straight-forward – orders come in and have to be filled. There are people waiting for their jewellery, so I have to do the work.
I'm so lucky that I now sell enough on Folksy, Etsy and my own site to fill my days. And when there's a slump which inevitably happens it just means I get to play with new designs until more orders come in. I have many half-finished projects that got moved to one side when other things were more pressing. But enough new ones get finished to make me happy and feel like I still have room to play.
What is your favourite part of making and selling jewellery?
One of the very best parts is getting feedback from an excited customer who has just got their parcel and is ecstatic about their new jewellery. I make a good number of wedding rings now and occasionally I manage to get a ring or a necklace just right and the resulting gratitude just melts my heart. It is wonderful to make a tiny thing with my own hands that speaks so loudly to another human being.
Another favourite of mine is happy accidents. If you experiment enough then they do happen and then I look at the piece and think – "Wow that looks quite good. How did you do that?"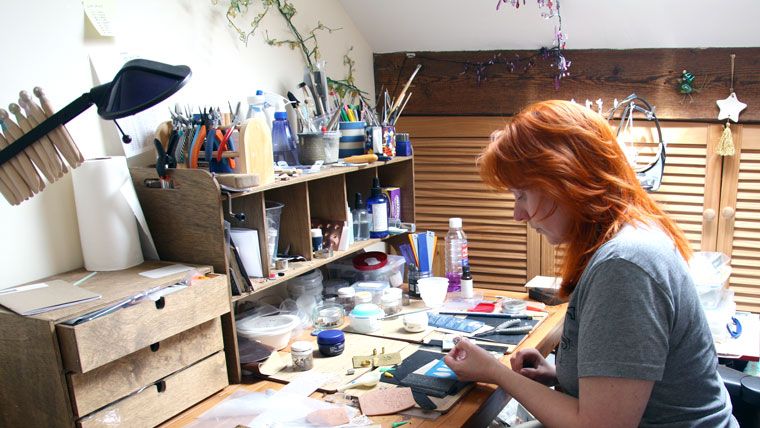 Do you take your own photos, and if so do you have any photography hints?
I take all my own photos, but it would be nice to have someone else model the items! As for advice I'd say keep practising – you can always get better and nothing is more important in getting sales than good photographs when you sell online. I know everyone advises to photograph in natural light, but that just never suited me. The light changes from day to day making your photos look different. If I can't have a coherent collection at least I can have coherent photos, and for that I needed the same light every time and to not depend on weather and time of day. If you're the same then here's what I do: I have 3 lamps in various sizes fitted with daylight bulbs. I then learned how to set the custom white balance on my camera – you photograph a sheet of white paper and tell the camera: "This is white" and it then corrects all the colours for you. This gives me if not identical results every time, close enough to make the photos look like they belong in the same shop.
How did you decide on the way you style your jewellery photos?
This is an ongoing process. I still change it from time to time. I did a lot of experimenting and really tried getting the classic white background to work that everyone recommends. Lots of people get really good results with white (including SilverMoss!) but it never really worked for me, so I went for something slightly different. Like I said I needed the photos to be coherent at least so I came up with a recognisable combination. I have a printout of a blotchy blue colour – like a faded piece of wallpaper, on top of that a skeleton leaf in a tan colour and on top a piece of glass.
The paper to me says rustic/handmade, the leaf says natural and the glass says clean; 3 things that I'd like to say about my jewellery from the get go. I know the advice is to not have reflective surfaces when shooting jewellery, but I like the hint of a mirror pool I get this way, so just decided to keep it.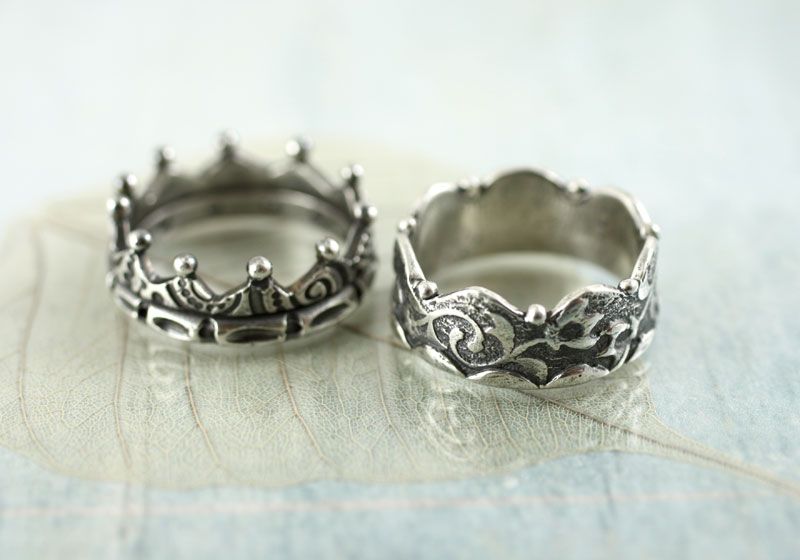 How much time do you spend online promoting your work and how do you balance making with selling?
I'll admit straight away I am lousy at maintaining any social media, but I do keep trying in a half-hearted sort of way :oD
I'm on Facebook, Instagram, Twitter, Pinterest and have several blogs and they all suffer terribly of neglect. When I am busy social media drops to the bottom of my to-do list
I do think they are a very good way of building a connection with your customers and like-minded people who also craft. There's a fantastic community out there and it's wonderful reaching out and getting support and feedback. I see it as more of a social thing rather than strictly promoting and that idea I am much more comfortable with.
I think the most important thing in terms of promotions goes is to have good customer service. I go out of my way to make my customers happy and to give them exactly what they want. It makes me feel better when everyone is happy with the transaction and it pays off in the long term as word of mouth gets me a lot of sales. It warms my heart when a customer says that a friend recommended my shop.
Thanks so much for the interview, Nana, and for sharing such fascinating information about your work.
All photographs in this post ©Sycamoon
If you want to see more of Nana's beautiful metal clay work then do click through on these links below -
Sycamoon's shop on Folksy
Sycamoon's inspiring blog including excellent photos and explanations of making rings from metal clay here and here.