Leather and Bead Jewellery to Make: 30 Cool Projects for Bracelets, Pendants and More
By Cat Horn
Published by Search Press 2016
128 pages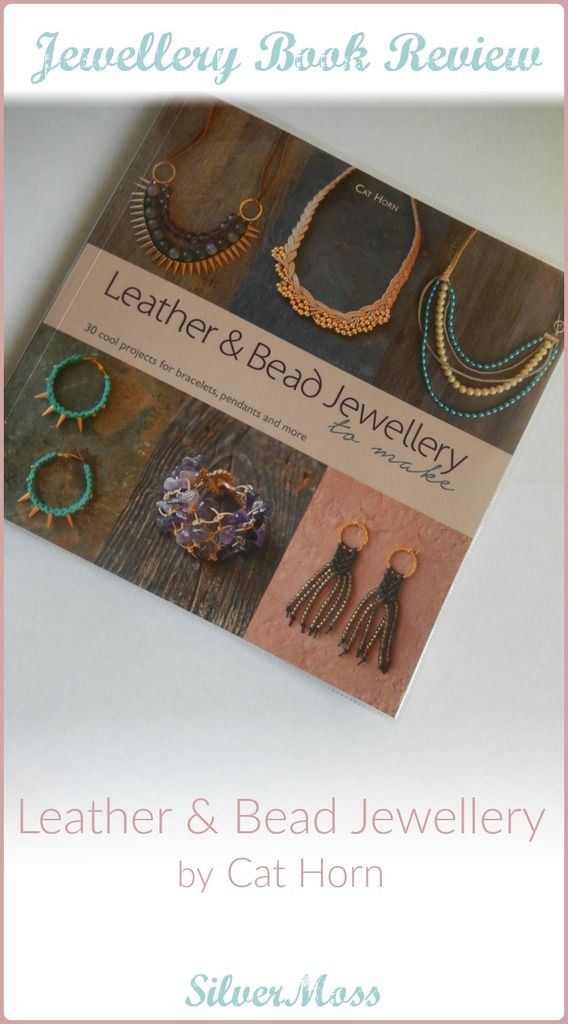 First Impressions
Perhaps the first thing to comment on with this book is the title - and to state that you don't
have
to use leather to make the jewellery projects it contains. I can't deny I was slightly put off at first; I'm not vegetarian or vegan but I do appreciate many people either are or prefer not to use animal products if they can find an alternative. When it comes to leather cord it is easy to use a synthetic substitute that will look as good as leather, and this itself is stated right at the start of this book.
An Overview
I'm glad the title didn't stop me from picking this book up. I found this to be a fascinating collection of projects, well explained and with lots of helpful photographs. It's a nicely designed edition, a square book, (which seems to be a popular shape for jewellery/craft/project books) and clearly set out. It even has photos of all the materials each project needs, which is something I'm particularly partial to - a good image of all the components that a project needs can save many words and is very practical when it comes to planning and making a project.
At the Start
After the introduction and near-obligatory notes about materials and tools (9 pages), a detailed section on techniques is included (10 pages), as well as a nice few pages about designing jewellery (4 pages). This latter is something that is often overlooking in jewellery books, but as a topic it has a lot to offer in inspiring people to develop their own designs.
In the Middle
The second part of the book is broken down into sections for the different styles of the projects; 'The Basics', 'Braiding and Weaving', 'Macramé' and 'Mixed Techniques'. Of these 'Macramé' has the most designs but I found all the sections to contain something of interest and I'm looking forward to trying some of the projects and adapting them to utilise materials I already have, whilst learning new techniques and perhaps expanding the materials I work with.
Each project shows a photograph of the finished piece along with a list of materials and tools needed. Also included is a handy indicator of difficulty level (ranging from one to three) and the size of the finished item.
At the End
An index finishes the book along with a brief list of suppliers, many of which are based in the US (although the book itself has UK publishers).
In Summary
If you're new to cord and beads then this book should be a great introduction, with enough simple instructions to get you started without dumbing things down. And if you're a little more experienced, or just looking for inspiration, then this is a pretty good option. Out of the thirty projects I'd like to make well over half myself and I think that's a good indicator for the quality of this book.
~~~
By the way, if you're looking for more jewellery books then check out my review of
Compendium of Jewellery Making Techniques - 350 tips, techniques and trade secrets
~~~
(this post includes affiliate links - please check details
here
for more info.)