Metal Clay Jewellery
by
Natalia Colman
Published by Search Press 2015 - 144 pages (pb)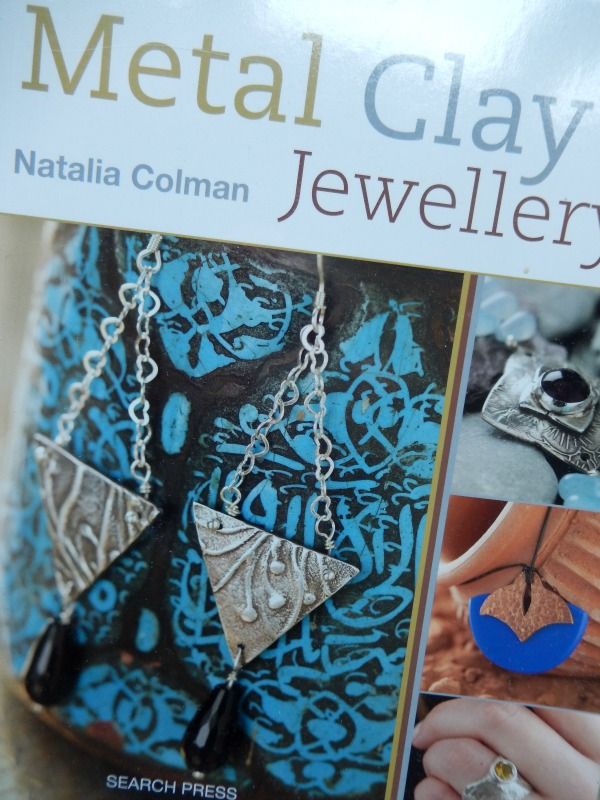 I still have both my small stash of silver clay pendants created at a day class, and my slightly larger stash of metal clay in its sealed pouch. The reason the latter is still unopened is partly due to the complexity of working
well
with metal clay, at least as far as I'm concerned. A big part of this is the kiln or soldering torch to fire issue, which for me revolves around the fact that I don't have a kiln. I suspect if I had originally begun making jewellery using metal clay, rather than metal itself, then my attitude would be reversed and I'd find all the paraphernalia of silver-smithing as dense a prospect as I do the list of tools needed to make items from metal clay.
The (slight) block I have about working with metal clay (and my aforementioned stash) is probably what leads me to feast on metal clay books as if they're Wispa bars and I've been on a health kick for a not inconsiderable amount of time.
Metal Clay Jewellery by Natalia Colman
is no exception to this. The cover is bright and colourful with clear and bold text in different colours that, I soon found out, indicate that this book covers silver, copper and bronze metal clay.
Inside the book, the clays are introduced individually and techniques for working with them are shown, all clearly and comprehensively photographed. And this is one of this book's great strengths, the quality and amount of photographs used to illustrate each step and idea. Some books can be a little limited when it comes to showing rather than telling how a topic works or is created, but here the visual side of things is very much to the fore and this is only to the book's credit.
The book next goes into detail about how to actually turn the clay into jewellery by using beads, findings and stringing techniques, and the tools that are needed.
As is normally the case with jewellery books, the main section consists of projects that show how to use the previously introduced techniques. Here the subjects of texture creation, bas reliefs, connections after firing, working with coils, adding colour, setting stones, and using hot connections, as well as finishing touches, are covered. The projects each include a list of materials, written instructions and those clear and copious photos I mentioned earlier. Many of the projects I found to be inspiring and exciting, showing me techniques and ideas that I'd not come across before and bringing me closer (I do so hope!) to tearing open those metal clay pouches.
At the back of the book is a handy chart which provides firing times for each project as well as different options of firing it - on a gas stove, by torch or in a kiln. Charts giving information about firing natural gemstones and cubic zirconias are also included, detailing the author's own experiences about which gemstones are safe to fire and how firing can affect their colour. As an aside, much of the information here relates to firing in a kiln, at a variety of temperatures, rather than using a torch.
The book finishes with a page of templates for use with some of the projects and a short glossary, as well as an index.
In terms of comprehensiveness - dealing with three different metal clays - this book is a fascinating read, full of ideas and imagination. The flip side of this is that it cannot go into great detail on any one clay or technique it shows, but this does not detract from the broad base of information it does cover. As an introduction to metal clay it's a good read, and as a way of stimulating ideas for those jewellers who are a little more experienced I think it is also worth a detailed peruse.
A nice find.
::::
Find more
jewellery book reviews here
- the latest is at the top, do scroll down for more!
::::
~~~~
Please note, this post contains affiliate links, which cost you nothing if you click through but may make me a few coppers if the stars are right that day... For more info check out my about page.