Last year I bought a gift of a pewter brooch, on the basis that I rarely make brooches and I've never worked in pewter, so the intended recipient wouldn't wonder why I hadn't made it myself.
When I received the brooch I had to persuade myself to still give it away as a present, and I immediately wanted to ask its creator, Christine from
The Owl and the Pussycat
, to do an interview (with lots of wonderful photos) to feature here. I'm pleased to say that she said yes and I hope you find her work as beautiful and inspiring as I do.
When and how did you start working with pewter and using it to make jewellery?
It was more than 20 years ago, when I spotted a crafts magazine that featured on the cover a rose wine bottle decorated with embossed metal sunflowers. I thought "Wow! I'd like to do that!". There were kits that you could send away for from a lady called Susannah Lucy. When I'd completed and polished up my basic floral brooch, I was amazed at the result, and all without needing any special equipment. I'd always produced drawings and paintings but was attracted to making 3-dimensional things that could be useful and decorative.
How did you think of your shop name and does it have a story behind it?
I really didn't think for long about the name of my shop. When I was a child I had a book with an illustration of The Owl and the Pussycat which I thought was the most magical thing I'd ever seen. I'd already made an Owl and Pussycat brooch and faced with entering a shop name (I set up shop quite impulsively), the name "The Owl and the Pussycat" just sprang into my mind.
Where do your design ideas come from and what is the process that sees them through to the finished product?
I get ideas from all over the place. If get an idea for an image in my head, I will doodle it actual size in a layout pad until I'm happy with it. Then I will trace it onto tracing paper. From there it is simple to transfer it to the metal. I don't do any experimentation- I've been doing this for so long I know what will work.
Where do you create your jewellery; do you have your own studio or use a kitchen table? Does your physical space affect how you work and what you can create?
I work on a table in the bedroom. One of the reasons I love this craft is that you don't need a large space or special equipment.
What is your favourite part of working with pewter?
My favourite part is when I've finished! I still get a thrill when I look at something that's turned out well and think "I made that!"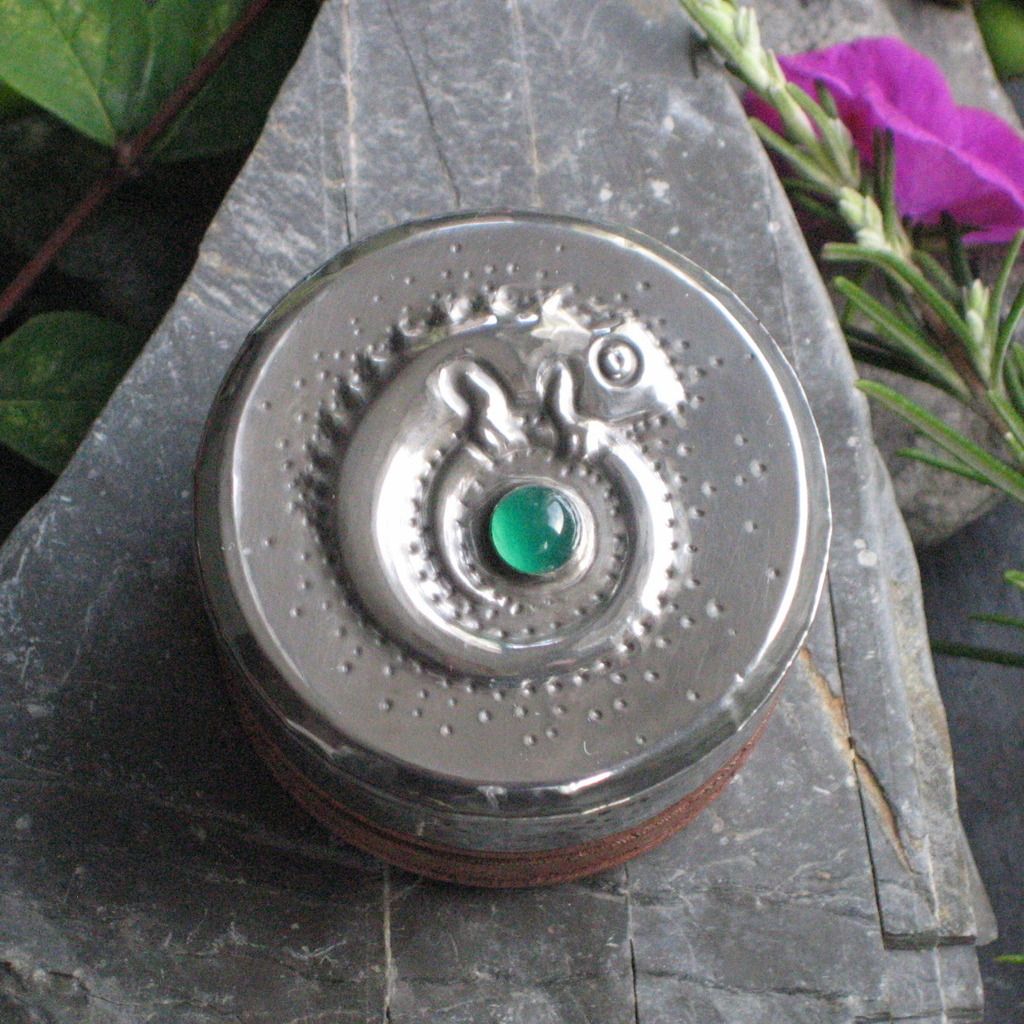 Do you use your drawing skills in your pewter work?
I've always had a very linear style of drawing, which suits pewter work quite well. I trained as an illustrator and most of my work is tiny illustrations.
Do you take your own photos, and if so do you have any photography hints?
I've always found photographing my work quite difficult as it is quite reflective and in shallow relief. With a lot of trial and error over the years, I think they are now quite a reasonable standard. I always need to make sure there is something coloured reflecting in the metal, otherwise the design doesn't show up.
How do you hope your work with pewter will evolve over time?
I have some plans to update my shop with some light-hearted and humorous designs, perhaps spending less time on making them and selling them at a lower price than my more intricate work. My designs haven't changed much over the last several years so perhaps it's time for a bit of a rethink to bring my shop up to date.
Many thanks for the interview, Christine, and for sharing the photographs of your wonderful work.
All photographs in this post ©The Owl and the Pussycat
If you want to see more of Christine's stunning pewter creations then do click through on these links -
Shop - The Owl and the Pussycat on
Folksy
and
Etsy
Facebook -
The Owl and the Pussycat
Pinterest -
The Owl and the Pussycat