Making Jewellery with Gemstone Beads
by Barbara Case
Published by David & Charles in 2007
128 pages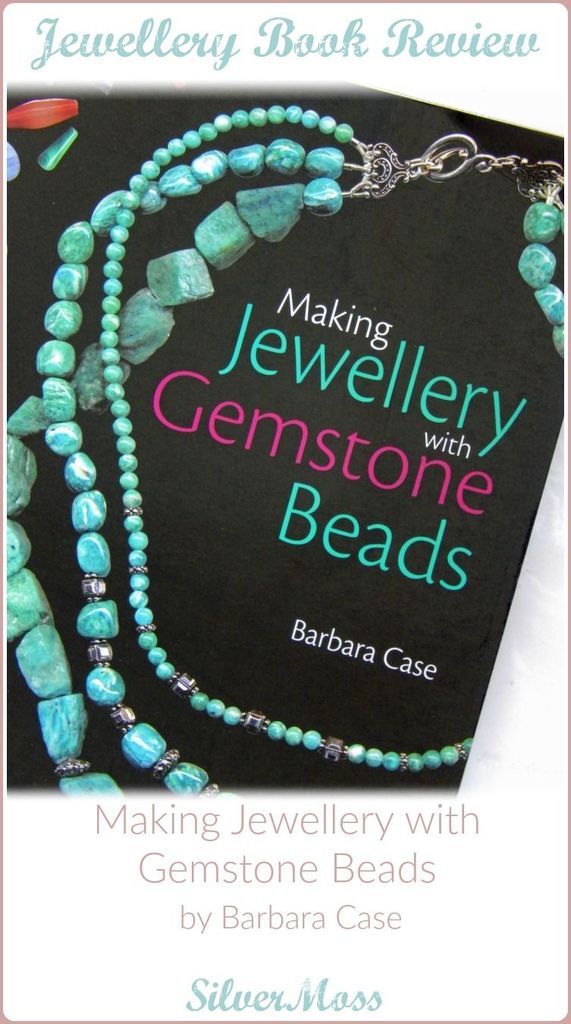 First Impressions
The dramatic black cover of this book, adorned with gemstones of many shades (although with a strong bias towards green) caught my eye immediately, and on opening its pages many more beautiful photos are to be found inside. I've read this as a large but slim paperback, running to around 128 glossy pages, nearly all of them with colour photos.
At the Start
The book begins with an introduction into both gemstones and the projects that are included. After that comes a couple of pages on materials, and then a handy two-page chart on different gemstones, their shapes, their cost bracket (low, medium or high), and which star sign they are birthstones for, as well as attributes connected with the particular gem. A basic guide to 'Tools and Equipment' and 'Basic Techniques' cover a few more pages before the next section of the book starts.
In the Middle
The main content of the book is devoted to four pages on each gemstone it lists, and it lists a lot. From Agate to Turquoise, stopping off at Emerald, Jasper and Ruby in between, 28 different gemstones are included. Each gem has a write-up about its individual characteristics and history, a buyer's guide and details such as where the gem originates. Then three different pieces of hand-made jewellery are shown, each featuring that particular gemstone, and some directions given on how to make them.
At the End
A glossary follows the main section on the beads themselves, and this is followed by a list of suppliers, a bibliography and some information about the author.
In Summary
The projects do not have extremely detailed instructions so a beginner might perhaps find them hard to follow for the beginner, but a more experienced beader should find the excellent photos easily sufficient as guides. Overall this is an excellent source of inspiration, giving ideas about colours and shapes, and providing a very good leaping off point for creating original pieces of jewellery.
(NB. It looks like this book is unfortunately out of print now, in the UK at least, but it's still worth keeping an eye out for in second hand bookshops and the like - I've found some of my best jewellery books that way! The book is available as a Kindle edition and if you have a colour reading device it might be worth buying - if you're reading in greyscale then you'll miss out of the wonderful colours and photography, both of which are a strong attraction in this book.)
~~~
If you fancy another jewellery book review then do take a look at this one on
The Complete Jewellery Maker
.
~~~
(this post includes affiliate links - please check details
here
for more info.)