Learn to Make Bead Jewellery
- by
Lynn Davy
Published by Search Press 2016
I think silver jewellery will always be my first love. The cool colour, the texture, the
workability
of it, and the fact it was how I began making jewellery, all seal my ardour for it. But even silver, beautiful as it is, can sometimes really fizz if its mixed with other materials, and in this case the materials in question are beads.
The paperback edition of
Learn to Make Bead Jewellery
has a bold front cover, mostly white with blue writing and a mass of blues in the necklace in the main photo. Four smaller photos show a variation of blues and this attention to detail in the colour indicates one of the features of the book - its projects are colour coordinated by way of descriptions of the natural world. So the project categories cover Ocean (blues and aquamarines), Beach (browns and creams), Meadow (bright shades of many hues, like a wild flower meadow), Woodland (browns and greens), Forest (reds, purples and deep greens), Mountain (greys) and Volcano (oranges and reds).

I'll return to these sections and projects shortly but here I'll detail the first few pages of the book. Like many others of this type it has an introduction and then sections on materials, tools and techniques. Lots of clear, colour and vibrant photographs are included and six pages cover the topic of beads themselves, including a section on how to chose beads to buy. A page each on stringing materials and findings is followed by two pages on tools and four pages on techniques, covering the basics with a series of step-by-step photographs.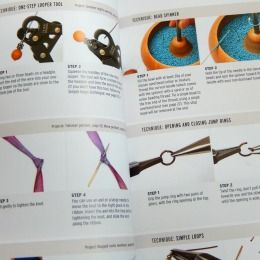 The book is finished by an index and a credit page but the majority of the book consists of the 35 projects it contains. Each project covers two pages (occasionally four) and has a list of beads, findings and tools required to complete the design. Every stage of the project is numbered and has photos and brief instructions, along with handy tips and extra techniques (as is often the case with jewellery books, developing skills and adapting projects is encouraged). The instructions are concise but useful and clear, and the photographs are bright and helpful.
Whilst this isn't a book for a single-minded silversmith, it's still interesting if you'd like to extend your skills. And if you're already a bead aficionado then, at the very least, the beautiful use of colour combinations in the projects should provide something new to learn and experiment with. The techniques are, I think, simple enough for a novice to understand and such a jeweller would find the book a helpful guide - it has detail enough to assist the growth of new skills, and also to inspire the creation of original designs, which is always the sign of a good jewellery book.
::::
Find more of my
jewellery book reviews here
(the latest will be right at the top, so do scroll down!)
::::
~~
Please note, this post contains affiliate links, which cost you nothing if you click through but may make me a few coppers if the stars are right that day... For more info check out my about page.