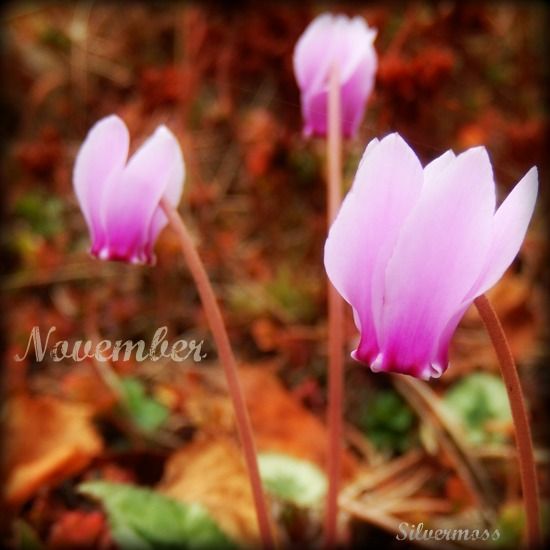 Ivy-leaved cyclamen, growing in the garden
Can it really be November? Perhaps the cliche is true, that the years seem to move faster as we get older... Or perhaps it's just the thought of how much I meant to get done this year, and how much time I had left just a couple of months ago, or so it seemed, that's making me wonder. Now, suddenly, it's fireworks and bonfires and full-pelt leaf fall and, yes, baubles and glitter and mince pies in the shops.
Despite having started Christmas shopping already ("I
will
be prepared this year, I
will
be prepared this year") I'm going to try and enjoy the fact it is still Autumn and an awful lot of leaves still have to fall...
So, if only as a form of distraction from any thoughts of Christmas, here are some links to stay busy with this coming month.
~jewellery links~
I adore this beautiful
mountain-scene necklace
.
A massive boulder of
jade
has been found in Myanmar; it weighs 175 tonnes and could be worth £140 million and looks nowhere near as pretty as you'd imagine!
In jewellery making, sometimes, accidents can be happy, as in the case of the creation of
these earrings
.
A
tutorial on etching silver
.
If you have any undrilled gemstones (and I know I do) and have been unsure what to do with them, then consider this
idea for creating the sweetest little boxes
.
Ever wondered how to make a
spinning ring
? This tutorial looks like a good place to start. It also involves
Tipp-Ex
!
For the person who has pretty much everything, then how about
the ability to time travel
wrapped up in sterling silver, gold and a few gemstones.
This ring
is a little cheaper and probably works just as well...
This
Steampunk jewellery
is so inventive and looks quite wonderful.
~non-jewellery links~
Have you heard of
hygge
? It's a Danish concept which, to me, roughly translates as
wrapping yourself in the softest blanket possible
when it's dark outside and lighting a candle or two. Oh, and you pronounce it 'hue-gah', although I like to think of it as saying 'hug' but with a bit of a Scandinavian accent...
Seriously
amazing photos
from around the world.
I've heard a lot about free university courses being available online but have only recently looked more closely at them. Quite a few portals exist, sites that collect the courses from the universities, and I've been using this one,
Future Learn
. The courses are genuinely free (I have had trouble with family members believing me on this!) although if you want a certificate to say you've done the course in question, then that costs. I've really enjoyed learning again, and love how accessible the courses are.
And speaking of online courses, I've also been
looking at this bundle
, consisting of eCourses and eBooks by fellow bloggers, about blogging. It's a fascinating collection although I'm not quite sure where to start! I also blogged about it
here
.
And speaking of education generally, how about trying
this spelling test
? Despite doing it twice I can still only get 14 out of 15 right...
And speaking of words in particular, the long-running mystery of who the best-selling author
Elena Ferrante
really is may have been solved but the story, and controversy, isn't over.
More photography, this time from the
Wildlife Photographer of the Year awards
. If you've not seen the amazing orangutan photograph that won then please do take a look - it is a truly marvellous image.
Beautiful film of
whales at sea
taken by a drone camera.
I know Hallowe'en is over but in the UK we still have
Bonfire Night
to come, and so these amazing toffee (or 'candied' as the US calls them)
apples
are still seasonal. I've never seen them on a cake before. One for your very own
GBBO
, or how about a
cake that looks as wonderful as this
?
~My Own Personal Book Club ~
I love to read at any time of the year but when the nights begin lengthening then it really feels the right time... This month I've been reading...
Station Eleven
by Emily St John Mandel - I am currently reading this and am utterly engrossed in it. It's a thoughtful read, often not what you'd expect from a 'post-Apocalyptic' novel (much of it is 'pre-Apocalypse') but it's absorbing and a little hypnotic, with careful prose creating an unsettling mood. Do give it a try if you can.
Some more sci-fi here in
Beacon 23
by Hugh Howey. Howey is a self-published Kindle sensation (and
blogs about his yacht
to prove it) and this is the second book of his I've read. With surprisingly little dialogue, especially at the start, this is quite a thoughtful read about how conflict damages people and how to end the cycle of war. It also has a large telepathic dog-like alien in it, so it's not all philosophy.
Metal Clay Jewellery by Natalia Colman
, inventive designs and helpful instructions. I've really enjoyed this book and will be reviewing it here very soon.
(affiliate links included in the books listed - please check details
here
for more info.)
~~~
I will do my best to embrace the need for soft blankets and fleeces and bright candles and large tins of chocolates - well, I might be getting ahead of myself with the latter as it's best, if you can, to save that kind of indulgence for
next
month... which we mustn't even
think
about yet. Have a good November.